One of the biggest movers in the crypto market on Wednesday was the Bonfida Token. It surged 63% on the day. Bonfida is a Solana-Based project that was recently listed on Coinbase.
On February 1st, one of the big movers in the crypto world was Solana. The SOL coin was up 11%. Why? One of the reasons for that increase had been the listing of Solana-based projects on Coinbase for the first time ever. One token that was listed is Bonfida (FIDA), which rose shortly after on the news. There was a tremendous amount of interest around Bonfida price predictions.
What is Bonfida?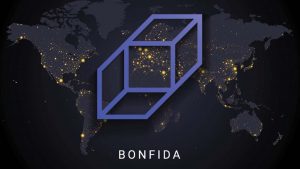 Bonfida is an SPL token (an equivalent to an ERC-20 token), and is the first such token to be added to Coinbase. Accordingly, expectations are high that this token could see seriously increased interest following the listing. Crypto experts have found that for many coins and tokens, the months following a Coinbase listing bring outperformance. Accordingly, many speculators and traders may be looking at the FIDA crypto as a short-term holding.
The Coinbase Effect
Those who moved in early got their payoff today. Bonfida had a spectacular move on Wednesday, it surged 63% on the day from $2.18 to $3.55. It is the latest example of the "Coinbase Effect" taking place.
In summary, the Coinbase Effect Theory suggests that a newly listed coin on Coinbase is likely to rise an average of 91% within the first 5 days of the listing. For Bonfida (FIDA), It took a little bit longer for the rise to happen (around 9 days). It's possible that it has a little longer to run. Following the Coinbase listing, there were several predictions made:
Let's dive into where the experts see Bonfid heading next.
Bonfida Price Predictions
For context, FIDA currently trades at $3.55 per token.
WalletInvestor currently projects FIDA could hit $8.07 in one year and $30.90 in five years.
DigitalCoinPrice provides a 2023, 2025 and 2029 price target of $4.07, $5.57, and $10.65, respectively, for FIDA.
Finally, Gov.Capital forecasts Bonfida could be worth $21.84 in one year and $208.42 in five years.
Via This Site
Although the material contained in this website was prepared based on information from public and private sources that golemglobe.com believes to be reliable, no representation, warranty or undertaking, stated or implied, is given as to the accuracy of the information contained herein, and golemglobe.com expressly disclaims any liability for the accuracy and completeness of the information contained in this website.