The crypto market is back on its feet and investors know that now is the ripest time to get in on the next big investment. Last month allowed the market to shake out some of the weak links. In doing so, many investors have been hiding in store of value investments like Bitcoin (BTC-USD) and gold-backed stablecoins. Now, though, there's a little more confidence in putting money on small players with huge potential. What are the next cryptos that will see huge upswings? It seems like Web 3.0 is the next industry niche in which to bet on explosive 10x cryptos.
Web 3.0 has been a buzzword throughout late 2021. Essentially, it's the next wave of the internet, which focuses on decentralization. It does this through a variety of venues. For example, decentralized autonomous organizations (DAOs) comprised of tech users themselves will make decisions regarding platforms and their budgets. Data will also become the property of the users producing it rather than companies reaping and exploiting it. Plus, creators will have better control over their intellectual property and earn more revenue for their work rather than forfeiting much of it to streaming platforms. The possibilities are quite endless — and hugely appealing from a user perspective. Web 3.0 is a wave of projects and organizations that put individuals before companies.
Many investors are struggling to come to grips with the concept of Web 3.0. Of course, it's not a tangible thing; it's an idea. So, it's not unreasonable that investors are at a loss on where to start.
Where should you start? Investors could consider these players as potential 10x cryptos in the Web 3.0 field:
Helium (HNT)
Audius (AUDIO)
Cirus (CIRUS)
Flux (FLUX)
Livepeer (LPT)
Helium (HNT-USD)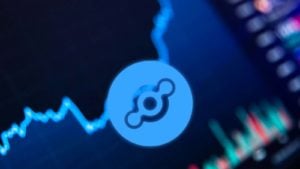 The first step to ushering in a decentralized internet is, according to Helium, ushering in decentralized access to the internet. It seeks to do this by putting decentralized hotspots into the hands of users worldwide.
Helium is an innovative project in that it combines blockchain technology with hardware meant for users to purchase. The hardware in this case are wireless internet hotspots. Users can purchase one of these devices, set it up in their home, and project wireless internet for other users in close geographic proximity. By providing end-users with internet, the device also mines the network's HNT coin, allowing them to generate passive income. Currently, there are over 610,000 hotspots deployed by Helium users all over the world.
The reasons to choose Helium's network are plentiful. Most prominently, Helium promises both the widest coverage of its kind in the United States. It also promises that devices can reach "200x further" than traditional Wi-Fi. Finally, in keeping with its ethos of putting internet access in the hands of the world, it offers competitive pricing to attract users of all income levels.
Audius (AUDIO-USD)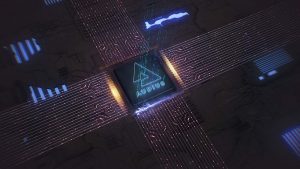 Audius offers a Web 3.0 spin on music streaming, which is already a huge plus when considering the breadth of music consumption. When people are listening to music in the car, in the office, at the gym and so on, music streaming applications are some of the most-used applications people tap each day. With Audius, then, users can better support their favorite artists with the added plus of building passive income.
The approach Audius takes to music streaming is multifaceted. It uses two different types of blockchain nodes in order to create a decentralized service: discovery nodes and content nodes. When an artist uploads content, content nodes stream the content to users of the platform. Likewise, the published content is added to Audius' content ledger, which the network indexes and distributes to discovery nodes. The discovery nodes promote content to appropriate listeners as "discovery content."
Underlying this system is the AUDIO token, which incentivizes use of the platform while also giving users the ability to govern the project. Users can earn AUDIO through a number of different listener incentives. Musicians themselves are awarded a whopping 90% of streaming revenue, far more than that afforded by competitors like Spotify. The other 10% is awarded to node operators. Additionally, users can stake AUDIO in DeFi pools and use their holdings to vote on community proposals.
Cirus (CIRUS-USD)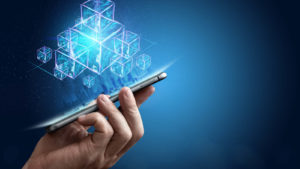 Source: Marko Aliaksandr/ShutterStock.com
While Audius and Helium have made names for themselves as some of the biggest Web 3.0 crypto players, Cirus is a greener name with potential to be one of the best-performing 10x cryptos to buy right now. This project is founded on the fundamental idea that users' data belongs to the users themselves. It aims to keep companies from freely mining data while users remain uncompensated.
Cirus recognizes that user data is valuable. After all, companies rely on untethered access to this data in order to efficiently and algorithmically influence the decisions of people online. Cirus also recognizes that users themselves get almost nothing out of this relationship. It's fairly parasitic, with no compensation for that access to data. The answer to this problem? Cirus seeks to correct this via a browser extension.
This project's browser extension is the primary method through which users can profit from their data. Using the extension, users just surf the web like normal. They then receive token rewards, which are reflected on a balance sheet in accordance with their web usage. The network is able to generate this revenue for users by tokenizing their data into non-fungible tokens (NFTs). Seeing how each users' interests and web experience are different, each user then has their own unique profile which companies want access to for any variety of purposes. When the data is utilized, users are paid a remittance.
Flux (FLUX-USD) Takes Aim at AWS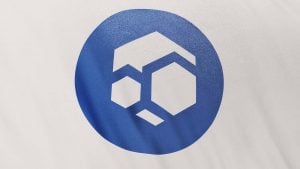 Source: Shutterstock
Next up on this list of potential 10x cryptos, Flux is quickly making a name for itself as a Web 3.0 competitor to Amazon's (NASDAQ:AMZN) Amazon Web Services (AWS) suite. The network appears to offer up all the same features that the e-commerce giant does while additionally underlying their network with a crypto asset.
The Flux network cropped up in 2018 to address a need for decentralization of web services. Indeed, AWS provides infrastructure for over one-third of the entire internet — and is provenly unreliable. AWS sees frequent outages, dragging down swaths of websites along with it. As such, Flux aims to make a more stable network through which users can launch apps, host servers, deploy oracles and so on.
Flux accomplishes this through its own dedicated FluxOS operating system and a global network of node operators called FluxNodes. FluxNodes exist all over the world and all use the dedicated FluxOS; when a user wants to tap into a Flux service, the FluxNode in closest geographic proximity takes care of that user's needs. This model is quite similar to Helium and its hotspots. The end result is a network that's decentralized — dispersing power among node operators and users — as well as higher-performing and more impervious to outages.
Obviously, the FLUX crypto is also a major part of this network, underlying each transaction and ensuring that everything runs smoothly. It's also a mineable cryptocurrency. That means users can dedicate computer power to generating coins, if so desired.
Livepeer (LPT-USD)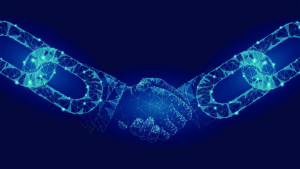 Livepeer is the last entry for this list of 10x cryptos. Unsurprisingly, Amazon has its hands dipped into a variety of other internet products that blockchain projects are trying to fight with Web 3.0. One of these is the Twitch platform, which Amazon acquired back in 2014. With the company knee-deep in the live-video content industry, networks like Livepeer are trying to decentralize the space.
This blockchain player is focused on delivering high-quality peer-to-peer livestream content without sacrificing power to a centralized provider. Rather than having computation handled by way of AWS or some other web services company, Livepeer uses a network of nodes which support content streaming.
One of the biggest draws to Livepeer is its video-mining capabilities. Users can transcode videos on graphics processing units (GPUs) while also mining for LPT tokens, generating passive income. All the while, end viewers get a better streaming experience with more compressed data and far less buffering than non-transcoded video.
Via This Site